AWRA Alaska Meeting Field Trips
Eklutna Water Treatment Facility and Ship Creek Energy Recovery Station
Wednesday - April 27th - 5:00 to 8:30 pm

Trip Limits = 20


Note: A sign-up sheet will be available at the registration desk during the conference. Please sign up by Wednesday noon.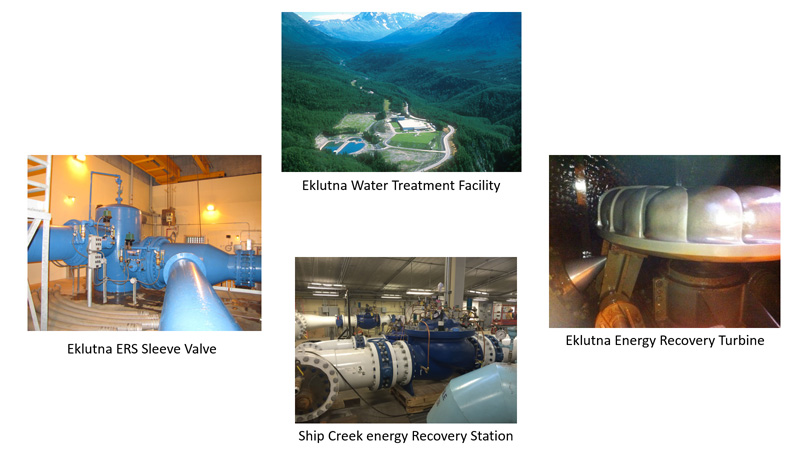 Overview:

The Anchorage Water & Wastewater Utility invites you to top off the conference with a local field trip Wednesday evening to visit the Eklutna Water Treatment Facility and Ship Creek Energy Recovery Station and see the new innovation in place and being developed to optimize the water treatment and energy costs for the utility operations.
At Eklutna folks will see:

State of the Art conventional, gravity flow water treatment facility
Raw water energy recovery turbine
Advanced, Utility-wide SCADA system for operation of the entire AWWU system (five water and wastewater treatment plants and over 100 remote facilities including pump
stations, water reservoirs, and high production water wells)

At the Ship Creek Energy Recovery Station folks will see:

Large diameter water transmission mains and associated pressure reducing valves
High pressure water pumps to reverse flow in our Eklutna Water Pipeline (allows us to pump water north to Eklutna during plant shutdowns)
Large capacity heat exchangers for the new high efficiency electric power generation facility. These heat exchangers provide heat dissipation for power plant cooling and add heat to our water system, helping prevent frozen water lines/services and reducing water heating costs to consumers. Also incorporated into the high efficiency power plant is inlet air cooling using AWWU water to lower air temperatures for the gas turbines, greatly increasing their efficiency.


The group will have some brown-bag (sandwiches, chips) and assortment of water and juices for the trip (provided by GW Scientific).
Personal vehicles will be used and rides will be worked out prior to leaving.
The group will meet in the hotel lobby directly following the last session of the conference.
Itinerary
5:00 - 5:50: Hilton to Eklutna WTF (meet in conference hotel lobby)
5:50 - 7:00: Eklutna Plant tour
7:00 - 7:25: Eklutna WTF to Ship Creek ERS
7:25 - 7: 50: Ship Creek ERS/HX
7:50 - 8:30: Return to Hilton, downtown Anchorage
Contacts
J. Brett Jokela, P.E.
General Manager
Anchorage Water & Wastewater Utility
Direct: 907-786-5511
Cell: 907-529-7383
email: brett.jokela@awwu.biz